Flamingo Birthday Party Ideas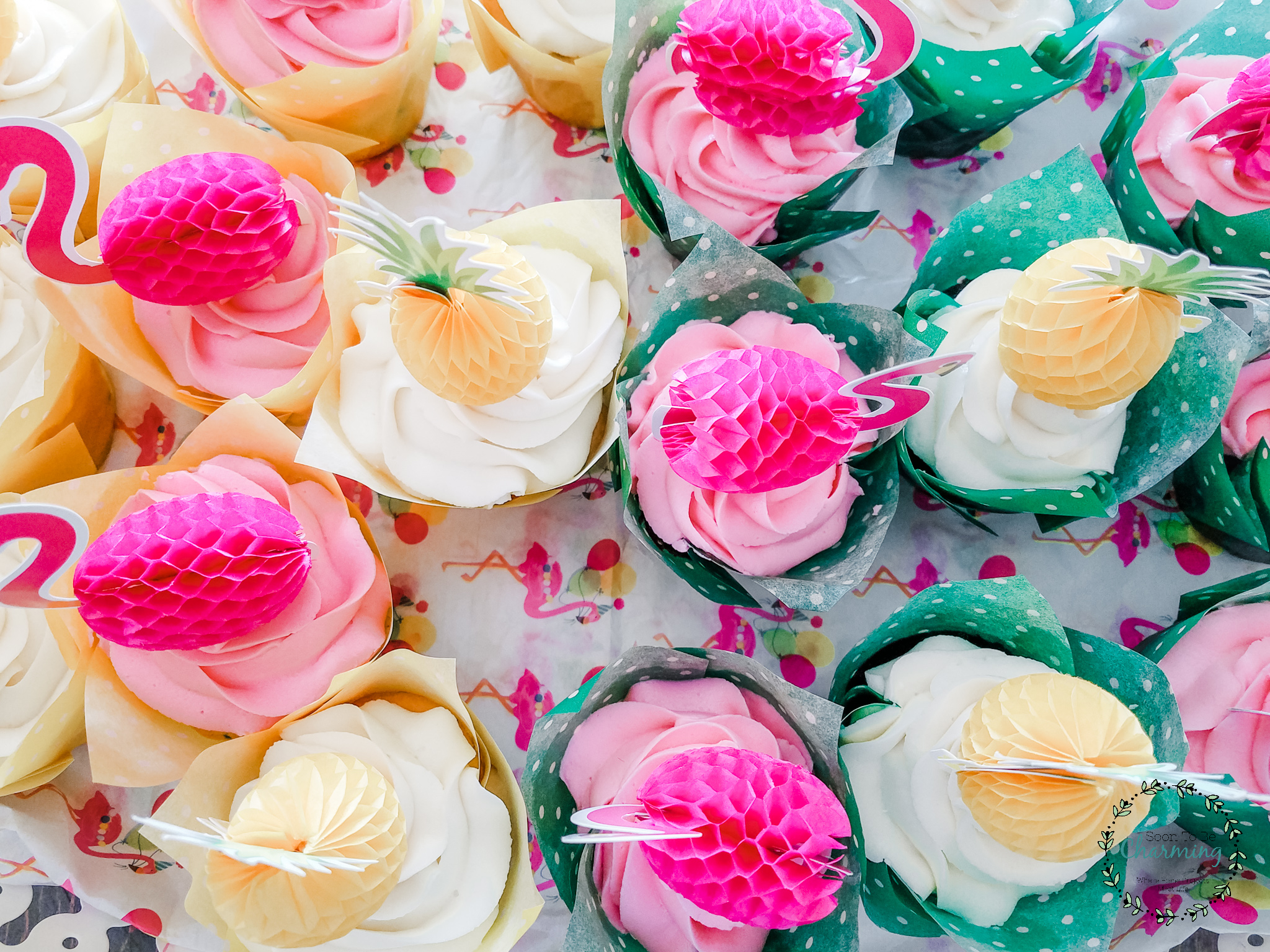 To my surprise, my inner flamingo definitely came out during this party!  I had no idea how fun and how cute it would be to throw a flamingo birthday party.  First of all, summer birthdays are perfect for outdoor parties and secondly, there are so many flamingo decorations to choose from!  Let me show you all the details, what I bought, my amazing tip for hanging decorations (you won't want to miss that!) and everything else I included to throw an incredibly fun flamingo birthday party!  
This post contains affiliate links, which means if you click on or make a purchase, I may receive a small commission at no extra charge to you.  I always appreciate your support!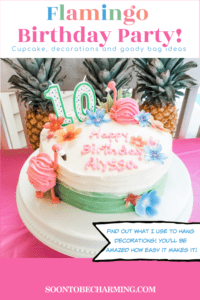 Party Supplies For A Flamingo Birthday Party
With so many different varieties of flamingo party supplies out there, picking out your plates is a good place to start.  It will help direct your colors and accents.  My daughter sat down with me and we looked online until she found a plate she loved!  She picked a gorgeous flamingo plate, and better yet it was delivered the very next day!  Thank you Amazon.
We ordered a balloon garland and some flamingo hanging decorations online as well!  Click on the image for more product details.
We picked up pink table cloths and green plastic silverware at party city to complete the decorations and supplies.  
The easiest way to hang decorations!!
Pipe cleaners are amazing!  Here are a few extra ways I used them at the party.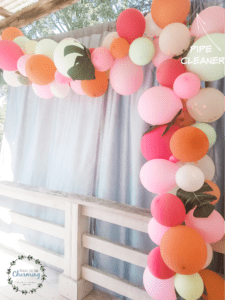 It was windy, so to keep the table cloths on the tables…instead of taping them, I gathered each end and secured them with a silver pipe cleaner.  It worked perfectly!  I did the same thing on the food table.  Just make sure to gather them tightly, otherwise the sides might still blow up.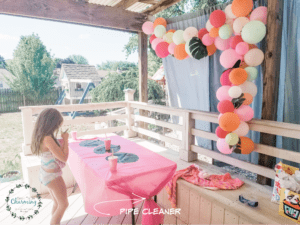 To hang decorations on my deck, I twisted two pipe cleaners together to fit around the beams.  Then at the bottom of the beam, I made a little eye hole with the pipe cleaner.  With fishing line, I hung the pom poms from the pipe cleaners. 
Twisting pipe cleaners is so much easier than tying a string around the beams.  Plus to even out the hanging pom poms, you can easily adjust pipe cleaners up or down!  
Flamingo Cake and Cupcakes
If you have seen some of my birthday posts before you know I love to decorate cakes.  Well this party, we were having a friends party because my daughter was turning 10 and a family party on the same day!  To make it easier, we chose to have cupcakes with her friends and then make a cake for the family party.
The cupcakes turned out so adorable and they were so easy to make!  I started with tulip baking cups (which I am totally in love with).  You can get them on Amazon here!  I made homemade frosting (you can get my recipe here). Then added these super cute flamingo and pineapple toppers.  The tooth picks were a little long, so I had to trim them before I put them in the cupcakes.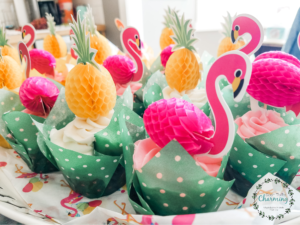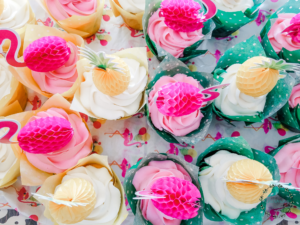 With having cupcakes, I wanted to keep the cake simple and small.  I knew we would have some leftover cupcakes, so we didn't need a huge cake.  For the frosting, I used the same homemade frosting that I used for the cupcakes.  
For the flamingos, I used a couple extra bendable flamingos from the goody bags (I bought them from Oriental Trading, but Amazon has them too)!  I wasn't too detailed with the flamingos, I slopped a bunch of frosting on to make them look fluffy!  The one standing was a little tricky…I added the frosting on that flamingo last and then put it directly into the refrigerator so it could cool.  I hoped the frosting would hold and it did! 
To make the grass behind the sitting flamingo, I cut up some green sour patch straws.
This is how I left the cake overnight (except without the candles and without the flower…I forgot to take a picture before I started adding things).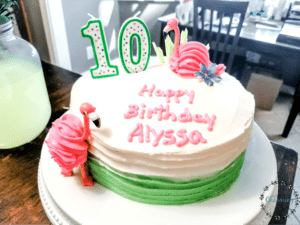 I bought some edible flowers here. 
They come flat, but you can gently fold up the petals to give them dimension.  I attached them with a dab of frosting.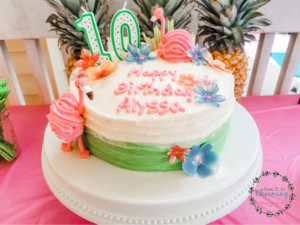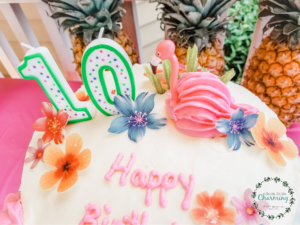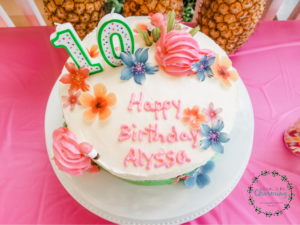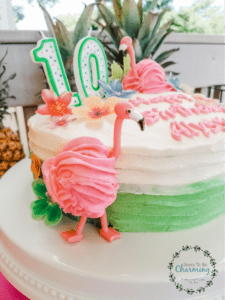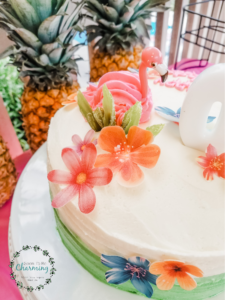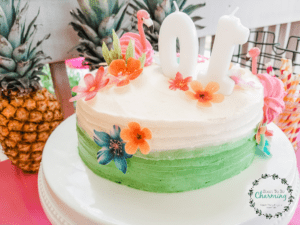 Food and Entertainment
Our flamingo birthday party was a pool party as well!  It was a super hot day and it worked perfectly to dip in and out of the pool.  My husband also painted a badminton court in the grass.  He measured everything out and used two boards to keep the lines very straight!  He is definitely the right person for the job…my lines would not have been straight! 
To keep it simple we bought this easy pop up badminton set.  It was something we wanted for a while now and have already played with it a ton post party!  When it is easy to set up…you'll actually use it (the racket grips may unravel…but you can just re-tape them).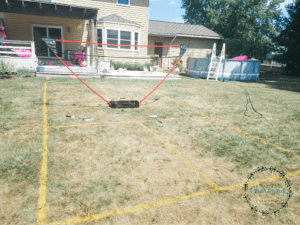 The food was simple, we ordered pizza and no flamingo/pool party is complete without fruit! I also kept drinks and crackers out to snack on…swimming always works up an appetite.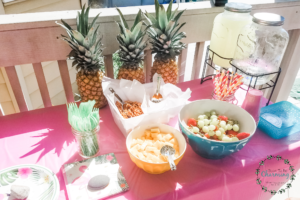 Flamingo Birthday Goody Bags
Since we don't do friends parties every year…10 is a big deal in our house.  So we put a pretty nice goody bag together.  Also, having a pool party doesn't cost anything besides food and decorations…so we splurged a little!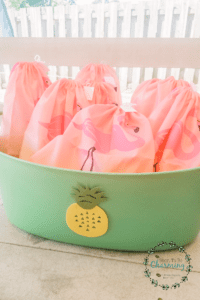 The flamingo bags we bought from Oriental Trading, along with pineapple shaped bubbles  (although the bubbles didn't work the best) and the flamingo bendable toys. We bought flamingo beach balls from oriental trading as well!
To add a little sparkle, we included sequin flamingos in each bag!  Find them on Amazon here!
We finished the bags off with candy.  I would say the bags were a hit and my daughter had so much fun putting them together!
Throwing A Fun Flamingo Birthday Party
The amount of flamingo decorations and supplies available make it really easy to throw a party!  This birthday theme is perfect for a summer birthday or just a simple pool party. Everything is bright and colorful, throw in a random dance party and your celebration is sure to be a hit. 
Thanks so much for checking out my post! 
Remember to subscribe HERE, so you don't miss out on anything else!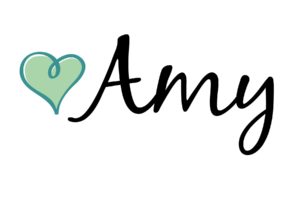 ---
---