My Family
Hi there!  I'm Amy, I live in the beautiful state of Michigan.  My husband Kyle and I have been married for 18 wonderful years.  I am mom to three amazing kids, Grady (14), Alyssa (12) and Lauryn (9).  God has blessed us in so many ways and continues to give me strength every day to be the mom and wife I desire to be. 
While life is busy toting kids, coaching tennis and everything in-between, I still try to enjoy a little downtime. Most mornings you'll find me curled up with a cup of coffee, checking out new ideas on Pinterest or planning my next project.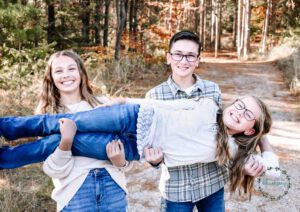 Blog Inspiration
The blog inspiration comes from our house.  We bought our home 6 years ago and absolutely fell in love with it.  It needed a lot of love, but thankfully my husband is handy and I love to design.  One thing led to the next and the projects began lining up.  The more projects we did, the more I fell in love.  I love seeing the transformations and using creativity to make spaces more functional.  Reading other great blogs and ideas made me want to share our journey.  
The purpose of Soon to be Charming is not about creating the perfect house, it is about finding joy in the process.  Some projects may be cosmetic and something we want to do.  Other times it may be stressful and something we have to do.  Either way, our goal is to have fun along the way, taking our vision and turning it into reality.  We hope it inspires you to try some projects of your very own.