Nerf Birthday Party On A Budget
Who doesn't love a nerf birthday party!  It is such a fun party to have. Fun games, bright colors, great for outdoors or possibly indoors if you have the space.  My son was extremely excited for his 10th birthday, first because we throw a bigger party with friends to commemorate the first decade and secondly, because we bought him a ton of nerf guns!  I think my husband was even excited for this birthday.  So how do you throw a nerf birthday party on a budget?  Let's check it out!
This post contains affiliate links, which means if you click on or make a purchase, I may receive a small commission at no extra charge to you.  Thank you for your support.
Throwing A Nerf Party- Nerf Guns
To start, you can't skimp on the nerf guns if you are going to have a nerf party!  However, dropping $500 on nerf guns isn't in the budget either!  So we started searching on Facebook marketplace. I apologize to anyone else who was looking because we cleaned up every available nerf gun! 
We did find some great deals, and most times it was someone selling who had outgrown nerf and they were unloading multiple guns!  Score! 
Not sure where to even start?  Check out this amazing Nerf Gun Guide from Reviews On Board!  They go over the pros and cons of several different types of Nerf guns, so you know just what to get!
For the party, we were planning on inviting 10 of my son's friends, so we wanted to have at least that many guns.  I think by the time we were done we paid about $10- $15 per gun and they would retail for probably around $40-$50. You can see how getting used nerf guns definitely paid off!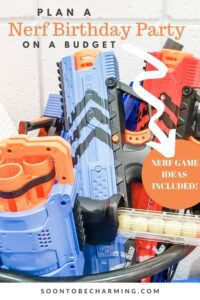 Nerf Ammo
With any epic nerf gun battle the last thing you want to do is run out of ammo.  First you need to know what type of ammo your guns take.  We used two different kinds of ammo, darts and rival balls, but you could limit yourself to guns with all the same ammo if you wanted.  
So you might think ammo is not a big deal, but it actually makes a big difference.  Nerf brand ammo would be your first choice, but can be pricey.  However, off brand ammo can cause your nerf guns to jam.  A nerf party won't be fun if your nerf guns are constantly jamming. Another thing to consider is how hard the tip of the dart feels.  Some off-brand darts can really hurt if you are shot with them.  
My husband and I actually did a lot of research on darts and rival balls…and surprisingly there are a lot of reviews out there!  We did end up going with an off brand to save money and here is what we purchased: Headshot ammo compatible with nerf guns and CooDoo darts.  We ordered 500 of each kind…which was plenty for 10-11 kids.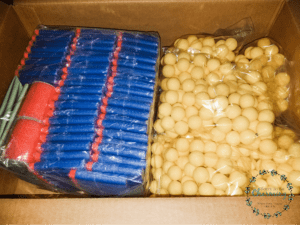 A jam here and there is bound to happen when you are shooting that much ammo, but overall we were really happy with the off brand ammo!  Especially if you are outside, you will definitely lose some ammo…so paying less will be a bonus.
Nerf Party Barriers
My husband was able to get a bunch of cardboard boxes from his work and we began taping them together to form barriers.  With the size of our yard, we thought 6 barriers would work.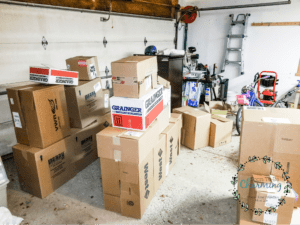 Then we spray painted them to match the nerf theme.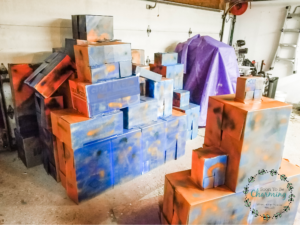 Back Up Plan
So of course, with any October birthday in this area, you never know what the weather is going to be.  The week of the party the weather took a turn and looked like it was going to be really cold!  So a few days beforehand, we switched to our back up plan which was to have the party in our church gym.  Thankfully we did, because it was pretty much 30 degrees and sleeting on the day of his party!  
Getting all those barriers to the church wasn't great, but doable.  We mounted them all on a trailer and strapped them down.  I forgot to take a picture of that…should have, because it was quite a sight!  
I began getting everything else packed up and ready to transport.
Nerf Party Time!
We didn't have a lot of time to set up, so we kept it simple.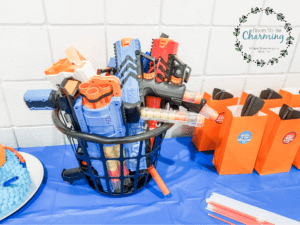 The barriers and nerf guns are the main attraction anyways.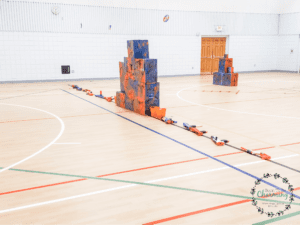 For food, we ordered pizza had fruit and crackers…it was easy and the boys gobbled everything up!  I had fruit and crackers left out the entire time to snack on.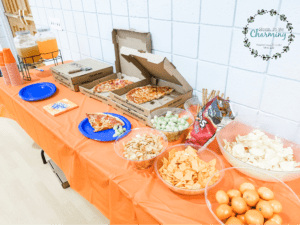 A drink station kept them hydrated, playing a ton of nerf battles made everyone really thirsty!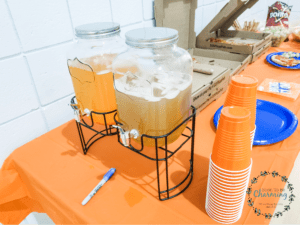 The nerf cake was fun to make.  We used toothpicks and inserted them into the ends of a few darts to look like they were hitting the cake!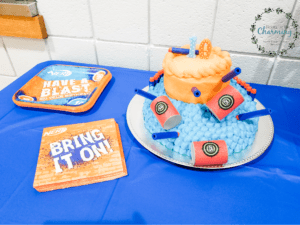 Nerf Party Games
Some games are better for inside and some are better for outside, so choose games that will fit your party situation.  Before you get started, here are some recommendations to help the games run smoothly.
Start with Nerf Gun Safety:
We included a set of safety glasses in our goodie bags, so during all games they wore the glasses.  Remind them to never shoot someone in the face and anything else that you need to go over!  The last thing I wanted was someone getting hurt at the party, I am sure you feel the same way!
Warm Up:
To get everyone started and familiar with the nerf guns, simply have a warm up game or have a target for target practice.  This is aimed to be a light game or time of practice to get used to the guns.
Common Rules:
While combat rules may differ at your party, there is a general way of doing things that makes it much easier to coordinate a battle. Here is a short highlight of guidelines found at Elite Sportsplex …make sure to link to their website for the entire list!
Do not leave the base until the main whistle blows. 
Play honestly. 
Players decide how many hits to take before being declared as "out". In a typical Nerf war, players are only allowed to become hit once before they are out. Once a player is out, they must return to the base to respawn, or they can lay on the ground and wait until a teammate revives them by tapping on their body with their hand. A player's ability to respawn or become revived by a teammate depends on the amount of lives they have. The amount of lives is typically established before the game.
Other rules can be established. Before the battle begins, your team and the enemy team can discuss a custom set of rules to put in place. 
Teams can be uneven. Typically, the number of people on each team is equal; however, teams can be uneven due to skill. Most Nerf battlers like to balance teams based on ability and player skill rather than just sheer numbers.
Nerf Battle Games:
Since we were inside a gym, there was no hiding.  To increase the fun, we laid all of the guns at half court and divided the boys into two teams.  Everyone started at the back wall and then when we blew the whistle, they had to run up and grab a gun!  It made it a lot of fun, first of all because not all the guns were the same…so they wanted to go for a few of the bigger nerf guns. 
Secondly, the ammo refill buckets were up at center court.  This forced them to continue to go up to the front and not stay put behind a barrier in the back.  Before each game we determined the number of "lives" each person had and then let them play until one team won.  This worked really well for an inside area.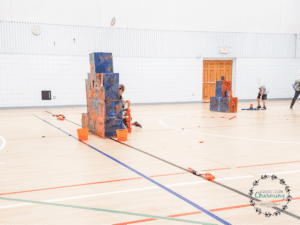 We also had a glow battle!  I bought glow in the dark necklaces and we turned the lights out for a glow in the dark battle.  Orange team versus blue team.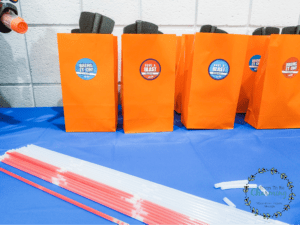 Here are more Nerf Battle ideas from Elite Sportsplex like capture the flag! Having a target shooting competition is another option as well!  HERE is a link to a great video showing some fun competitive games!  I still might make the light targets from this video…it looks like so much fun.
Our son had an absolute blast and his friends did as well!  It is the type of party that I would highly recommend.  If you have any questions, comment below and I would love to help answer them if I can.  
As always, thanks so much for checking out my post!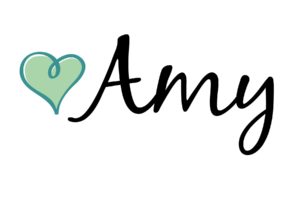 ---
---