Cake Decorating For Beginners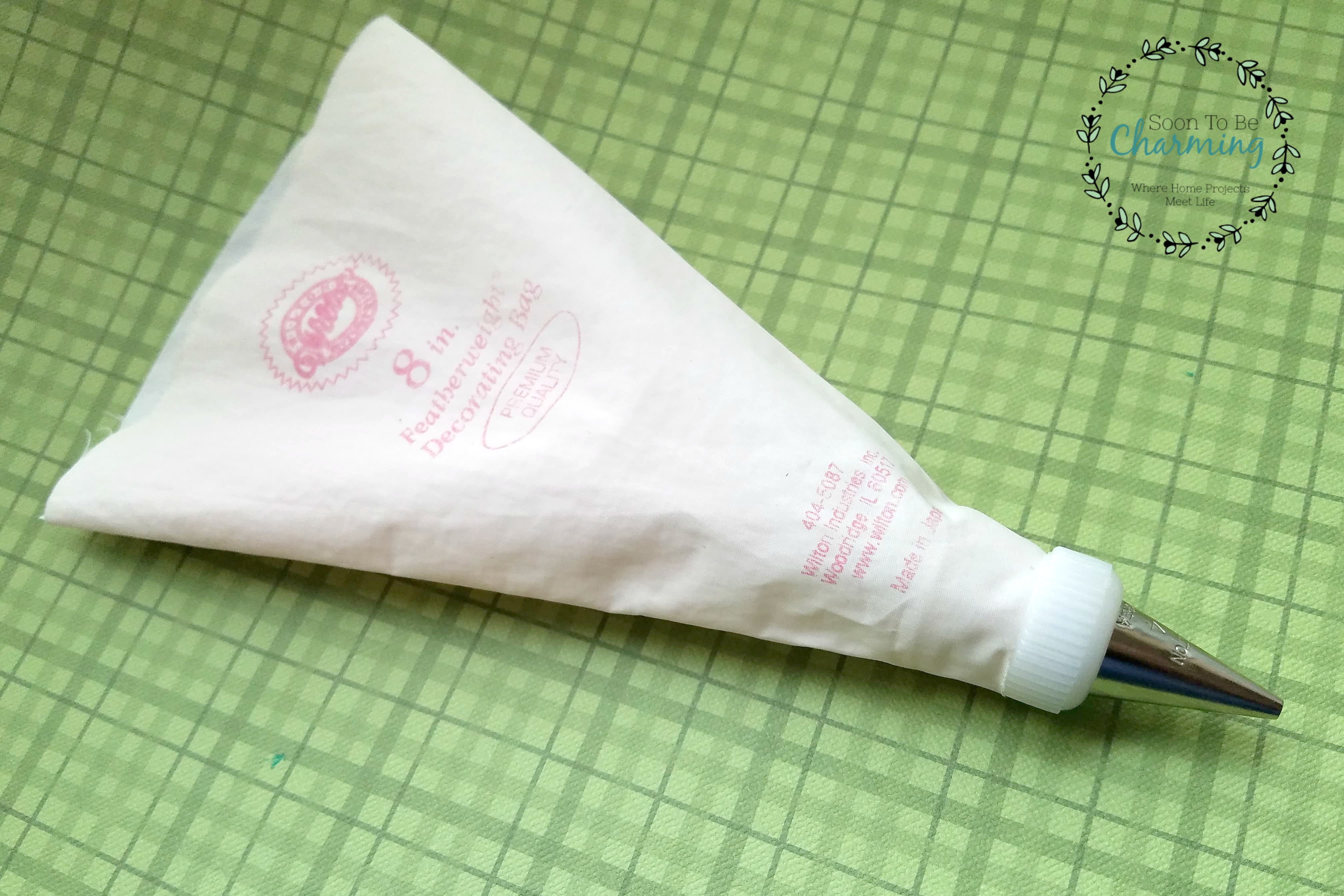 My mom always made birthdays special and decorated amazing cakes!  She learned from my Grandma who used to decorate wedding cakes out of her home.  Over the years I learned from my mom, and hopefully someday my kids will learn from me. 
Here is a birthday cake my mom made for my sister and I,  it's beautiful and I guarantee she just whipped it up without much thought.
This post contains affiliate links which means if you click or make a purchase I may receive a small commission.  This comes as no additional cost to you.  I love and use all of the products recommended in this post.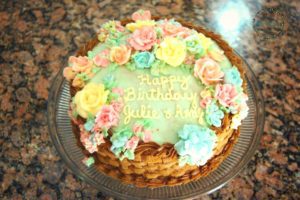 I love making birthdays special for my kids too!  I always sit down with each child about a month before their birthday and let them decide on a theme.   Then as the birthday gets closer, I will take that child out on a mommy/son or mommy/daughter date to pick up all the supplies.  I love that the kids look forward to going out "just with mom"!
As far as the cake, I begin thinking about it shortly after the theme is decided.  Pinterest is a great resource for ideas and sometimes I will let my kids look with me which sometimes backfires.  She sees these gigantic cakes and if it were up to my youngest, her cake would be 5 tiers!
There is no doubt you will see incredible cakes on Pinterest, but know your limits.  The cake you attempt has to be attainable, so start simple….it will be less stressful and turn out much better if you keep that in mind.
Cake Decorating Basics
To start decorating cakes, you will need to buy a few tools.  You don't need to look far, most grocery stores such as Meijer or Walmart will have all these supplies.  Michaels has a large cake decorating section as well.  I provided links below if you prefer to buy them online.
Frosting bags come in many different sizes.  Below I show an 8″ bag, this bag is better for piping small areas.   Frosting bags also come in 10″, 12″, 14″ and 16 " sizes.  For frosting the entire cake, I would recommend the 16″ size. 
When decorating, it is always a good idea to have a bag for each color of frosting you want to use.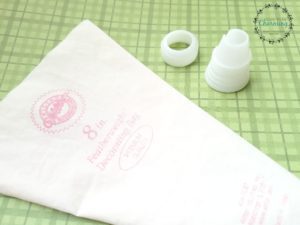 The coupler lets you change the decorating tip without changing bags.  This is very helpful when decorating!  You will want a coupler for each frosting bag you use.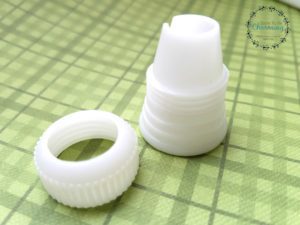 Getting a basic tip kit is a great way to start.  On the back of the kit it will normally have a diagram of what each tip can do, otherwise you can jump right in by making some frosting yourself and practice on wax paper!
As you decorate more, you can purchase additional tips as needed.  If you like to decorate cupcakes, I bought this cupcake decorating kit and love all the larger tips!  I also used the 2D large drop flower tip (from the cupcake decorating kit) to make rosettes for my daughter's Belle Cake.  The cake turned out great and I wondered why I had waited so long to buy large tips!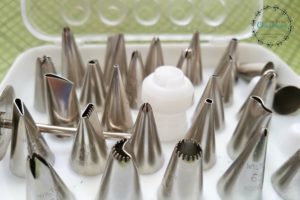 Wilton gel coloring makes the colors incredibly bright.  It doesn't thin the frosting either.  I normally buy 1 oz containers based on what I need.  However at this point, I have nearly collected almost every color.  Now I only need to buy colors when I run out. 
To get started, buy just a few colors or you can also buy a gel coloring kit.  The kit comes with 12 colors in 1/2 oz containers.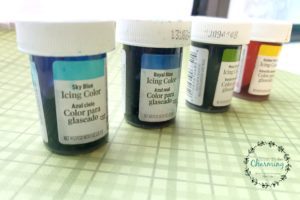 I buy a pack of basic cake boards and use them for my 9 x 13 cakes.  For round cakes I normally use a cake stand, but you can also buy round cake boards.  They are easy to use and can just be thrown away when you are done.
Frosting
To decorate you need a great buttercream frosting!  I have just the recipe for you.  It is the frosting I have known my whole life and has been on almost every cake my family has served.  It is delicious.  Making frosting from scratch is not as hard as you think….and once you start you'll never buy store bought again!
Tips
It's always better to have more frosting than you need:  two 9″ Cakes- double the recipe.  Two 13 X 9 cakes- triple the recipe.
Before frosting, level out your cakes.  Use a knife to trim off the top.  I am still not great at this, but the more level the better your cake will look at the end…so try your best!  Make sure your oven is level too, otherwise your cakes will bake tilted! *** You can always add extra frosting in between the cake layers to help level.  Frosting is your friend!
Coloring your frosting, only put a clean knife into the gel coloring.  If you need more color, wash the frosting off the knife and then get more.  If the knife has a little frosting on it and it is put in the gel coloring it will crystallize and cause the gel to clump.  The clumps eventually get into the frosting and get stuck in your tips.
Use plenty of frosting.  It is important to keep the frosting thick enough, so you don't pull cake crumbs into the frosting.
To end with a really smooth finish, have a warm glass of water near.  Dip a knife into the water, then gloss over the frosting one last time to make it completely smooth.
Add a border to the bottom and top edges to give the cake a finished look.
Here are some of the cakes I have decorated over the years!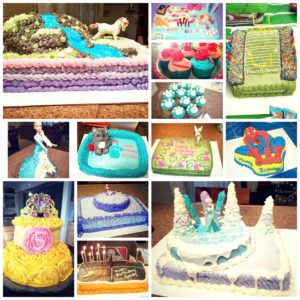 You Can Do It!
You may find that you really enjoy decorating cakes!  It is also so much cheaper than buying cakes, I still get sticker shock looking at cake prices.
Give yourself plenty of time to decorate.  I like to have my cakes baked earlier in the day and then once the kids are in bed, I spend the evening decorating.  Sometimes I get a little too ambitious and go late into the night, but I love the creativity of it!
Also, I love the surprise of my kids faces when they see the cake.  It doesn't get much better than that!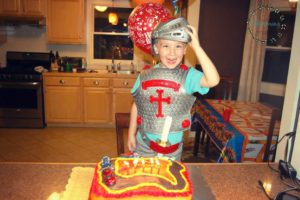 The more you decorate…the better you will get at any level.  So never stop frosting!!
Pin It For Later!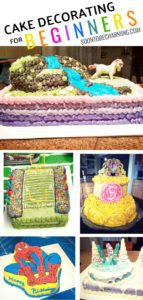 Thanks for checking out my post!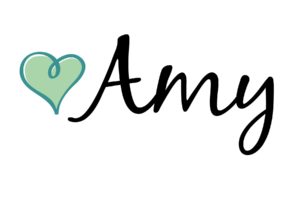 ---
---