Unique Christmas Light Scavenger Hunt Gift Basket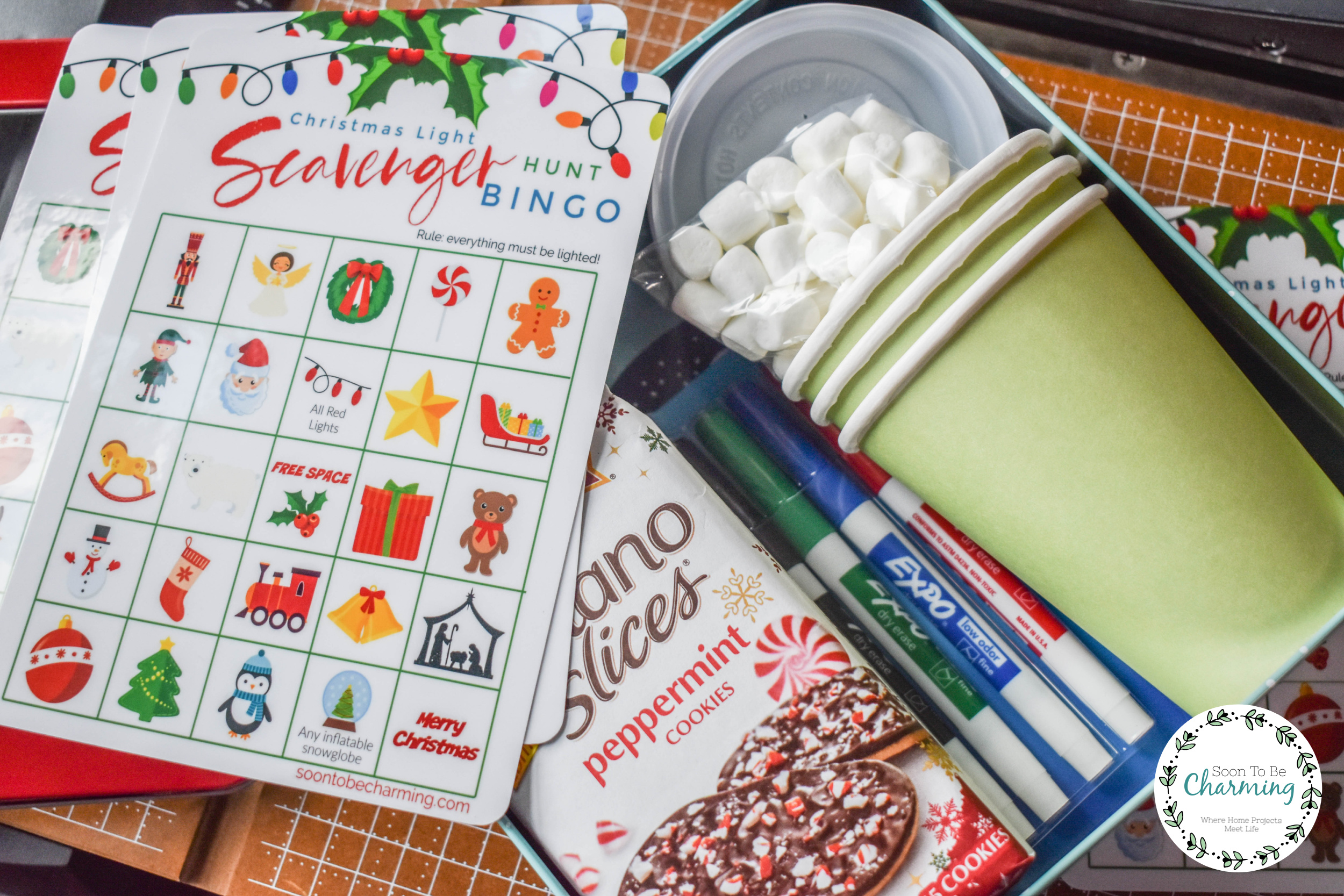 I am so glad you landed on my page!  If you have been scouring the internet for a fun and creative gift idea…I have the perfect idea for you.  This unique Christmas gift basket is something I personally handed out to my neighbors last year and also made one for my family.  I can attest from personal experience that it was so much fun!  I hope you love this unique Christmas Light Scavenger Hunt Gift Basket as much as I do!
This post contains affiliate links, if you click on or make a purchase, I may receive a small commission at no extra cost to you.  I always appreciate your support!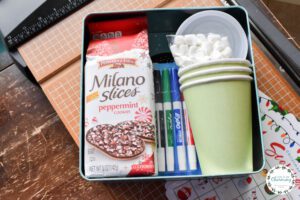 This basket is perfect for neighbors, family or teachers!
For these baskets, you have two different directions you could go in.  If you have ever done a Christmas Light Scavenger Hunt, you know it is a blast!  However, I also created a Christmas Light Scavenger Bingo, which is just a little twist on the traditional game. 
Here is a description of each:
Traditional Christmas Light Scavenger Hunt
For a Christmas Light Scavenger Hunt you can play with just your family or you can invite other families to compete against.  If it is just one car, take the list and drive around to see how many items you can find.  This is great, especially, if you have younger kids.
If you like a little competition, invite other families to join in.  We typically set a 45 minute time limit, which seems to give us enough time to get most of the items on the list.  Once the 45 minutes are up, everyone drives back to the starting point and the family with the most items crossed off wins. 
*We always print off a sheet for everyone in the car so they can see what they are looking for, but use one "official" sheet to record what you find.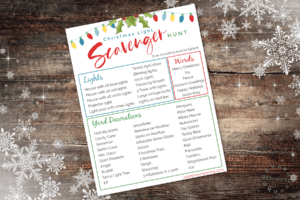 Christmas Light Scavenger Bingo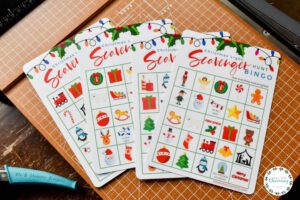 I still love the traditional Christmas Light Scavenger Hunt, but if your family is a little older and enjoys a little friendly competition…then Bingo twist is the one you want.  Every person in the car gets a bingo card (except the driver of course).  The bingo cards are all different, so not everyone will be marking off items at the same time.  You'll find yourself desperately searching for certain lights so you can yell bingo first!  When my family played last year, we played multiple games in one night and then just switched bingo cards every couple of games.
For the baskets I put together last year, I laminated the bingo cards and included dry erase markers.  If you are interested in laminating, this is the laminator I use for my Etsy shop and love.  I always use 5 mil pouches with it.
You could also print them out on cardstock (to make them sturdier) and include small "markers" like wrapped candy or chocolates to play bingo.  It might be a little tricky to keep the cards flat in the car, but is definitely doable.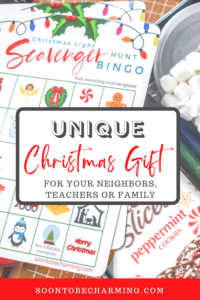 Christmas Light Scavenger Hunt Baskets
Here is what I included in my baskets:
Christmas List Scavenger Hunt or Bingo Cards (they are available in my Etsy Shop)
dry erase markers (only if you laminate them)
small bag of marshmallows
individual hot chocolate packets (one for each person in family)
small bag of chocolates or treats (include extra if you use them as bingo markers)
Add a gift card for dinner or peppermints for the hot chocolate!  The options are really endless with these baskets, so have fun with them.   Just keep in mind if you do add to go cups to your basket like I did, they are deeper than most tins.  Find deep tins or just use a cute basket.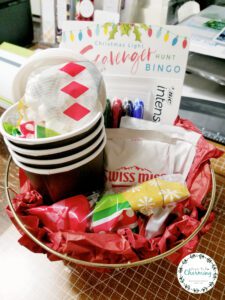 Simple and quick Christmas Gift Basket

 
These baskets are simple and quick to put together!  Plus, relatively inexpensive.  You can't beat that kind of gift.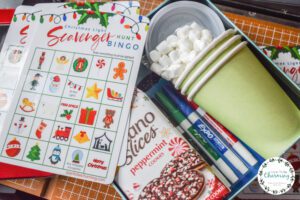 I really do enjoy this as much as my kids do!  I hope you do as well.  Just make sure to keep one extra for yourself, candy, bingo, hot chocolate, family and Christmas lights…how does it get any better than that!  
Thanks so much for checking out my post!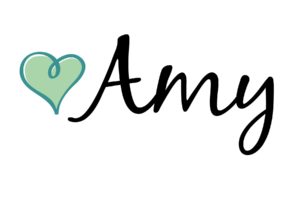 ---
---